Acne scars/marks: INNOfill+Multixel
Register : 2015-10-26 04:53:21 pm
This is the translated version of a review written by a Chinese patient at our clinic. The original testimonial can be found here: http://www.soyoung.com/dpg1013301
I was really stressed out about breakouts and skin troubles.
Actually, I didn't have that many breakouts, but I was concerned about the acne scars and red marks.
So before I came to Korea, I found Renewme Skin Clinic online and booked an appointment through their translator. I wanted to receive treatment so much, and dashed over to Renewme Skin Clinic as soon as I could!
The doctor recommended a combination of INNOfill and Multixel (a fractional CO2 laser). I accepted without a second thought, because I wanted my skin to become clearer.
During the procedure I didn't really feel anything. But the anesthetic injection at first did sting a liiiiittle bit.
This is me right after treatment:
And this is me one month after treatment. You gotta admit the effects are pretty good!
Personally, I'm very satisfied.
And below are pictures of my face now. What do you think? The effects are really good, right?
It's hard to tell in the pictures but there aren't a lot of marks left.
I'm definitely going to Renewme Skin Clinic the next time I go to Korea!
-Treatment Prices & Info-
INNOfill:
750,000 KRW per session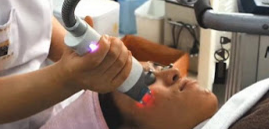 Fractional Laser:
700,000 KRW per session
INNOfill + Fractional Laser Combo: 1,200,000 KRW per session
Click here to be directed to our acne scar treatment page.
Click here for more information on the lasers.