Today, Singaporean celebrity blogger, " Shennyyang" visited to our clinic to have consultation and treatment for "Mini-Liposuction". She is skinny but, she wants to make more sharply her body for upper arms, thighs, lower belly. Being away for a month, she is worried about gaining weight even though she works out daily. It's inevitable to remove some fat from our body like arms and thighs ect. Then she finally decided to have Mini-Liposuction at RENEWME SKIN CLINIC. Here is her story for detail about surgery.
Goshhhh has it been 4 months already?! This is the longest time I have ever been away from this space??  I really do miss sharing my stuff here but... life's just pretty hectic the past months and laziness got the better out of me as well. Whatever happened to my 2017 resolutions? And it's already going to be 2018 wts. But to be fair, I've been alot more active on my Dayre these days so I guess if you're keen in reading more of my daily stuff, you can check my Dayre out instead!! :)
Anyway back to today's post...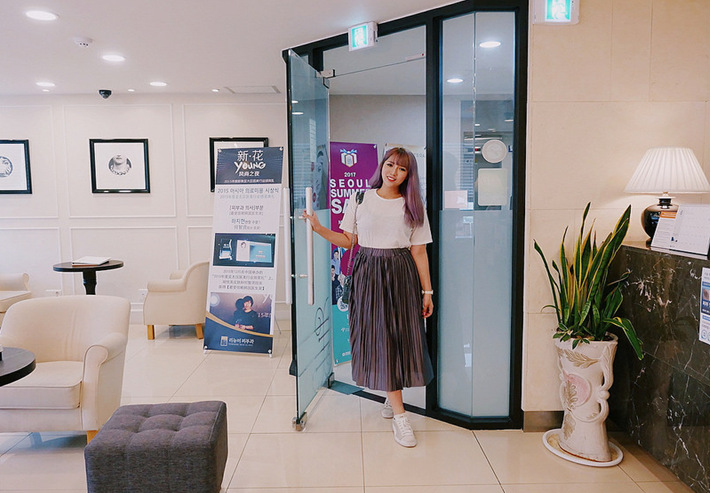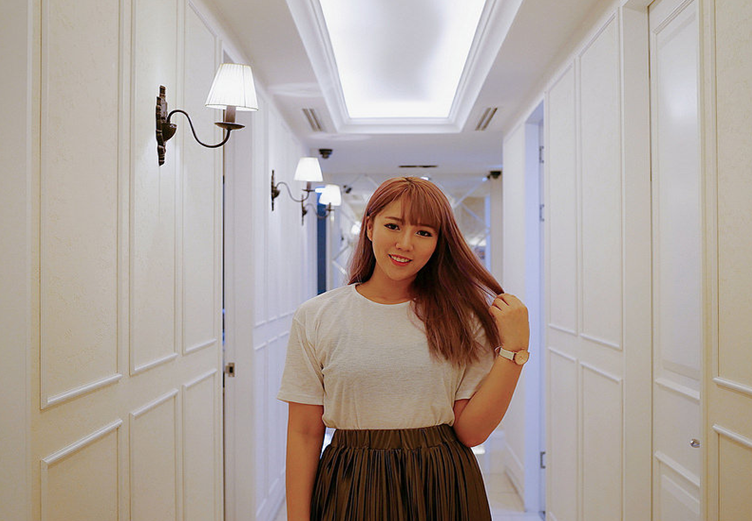 I just wanted to update and share with y'all more about the Mini-Liposuction procedure I did at Renewme Skin Clinic in Seoul back in June~ I am sorry this post took so long, but I promised you girls on Dayre that I would share more details over on my blog. So here it is!!!
Just a little background of myself in case you happened to be a new reader...
I used to be rather skinny and being fat was never an issue for me. I probably started gaining weight massively since 2 years ago? I think it was a 10kg gain in 6 months. IT WAS TERRIBLE??  It came as a major shock when I finally took the courage to step on the weighing scale. I knew I gained weight, but I just didn't know it was so much. Since then, I have been trying to lose weight. I tried dieting, tried exercising, even collaborated with a well known slimming centre in Singapore which did work, but the results were kinda temporary. The weight bounced back really quickly once I didn't watch what I ate. To be honest, it was really depressing. I used to fit size S for most online stores, but it eventually became M, sometimes even L. I became really self conscious on the clothes I could wear because I didn't want my fats to 'spill' out. I also started wearing jackets alot (even in crazy SG weather) because I wanted to cover my flabby arms. If I could wear baggy and oversized tees, I would. I just didn't feel confident in my own skin anymore.
Luck was on my side when Renewme Skin Clinic contacted me a few months back to do a collaboration together! I checked out their website and omg I WAS SO HAPPY AND EXCITED when I realised they provide MINI LIPOSUCTION SERVICES!!!! I decided to make a trip to Seoul in June to holiday and to have a consultation at the clinic!
Renewme Skin Clinic currently has 6 locations in Seoul and 1 in Busan. I visited the one located at Jamsil, Seoul.
The clinic was simple, clean, spacious and the staff were very welcoming :)
After filling in some personal information details, I finally got to meet my doctor
- Dr Ha Ji Hyun!
Not to worry if you are worried there will be communication barrier because there's always an English translator beside you to help you translate your concerns to your doctor!?? I told Dr Ha about my main concerns - to remove fats from my arms, tummy, love handle and thighs! You can also ask any other burning questions that you might have. For me, my first question was...
- WILL IT BE PAINFUL?? (because my tolerance level for pain is an all time low LOL)
Yes, I was told it will be painful. And yes, it was a little painful at some points during the surgery.
& just to share some other questions that I asked..
- Can you administer general anesthesia instead of local anesthesia so I wouldn't feel any pain at all?
No. For Mini Liposuction, local anesthesia is being administered. I was told there are risks involved in general anesthesia. So yes, I was conscious throughout and was witnessing the whole surgery.
- How is Mini-Liposuction different from the normal liposuction?
It will be alot less painful during the recovery process. And it works better for individuals who have specific areas they want to target, such as armpit fats, inner thigh fats etc. It is perfect for people who are a little chubby (like me) who wanna suck out that excess stubborn fats to achieve that ideal figure they would like. It is however not suitable for obese people.
- How long would I take to recover?
It really depends on individual and also whether you consistently massage the surgery areas regularly to quicken the healing process. For full reovery, it can take anytime from 1 month to 3 months. The bruises however should heal within 10 days. Usually, people will be able to go on with their usual lifestyle immediately the next day.
- Can I drink alcohol?
Sadly, NO. For a month. 
- Do I have to wear compression garments?
You can, but it is not a must. For me, I didn't wear cuz I find it really uncomfortable and painful.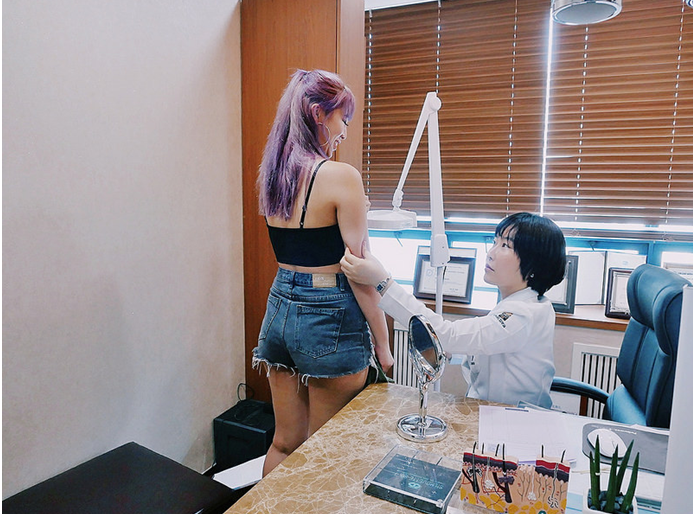 Dr Ha squeezing my fats (hahaha) to see how much can be removed! Generally, the softer your fats, the easier and less pain it will be to remove! More muscles = more pain! Anyway, ya... as you can see. I am not exactly fat-fat la, but I just have some fats 'spilling' out and I kinda felt out of shape. Lol
Done with consultation, fixed my appointment for surgery and that's it
A couple of days later, I was back at Renewme Skin Clinic for my actual surgery. *Nervous*??
I chose to wear loose clothings so that it will be much more comfortable to wear back after the surgery. Also, long skirt is a MUST personally, because it helps to hide the bandages and bruises!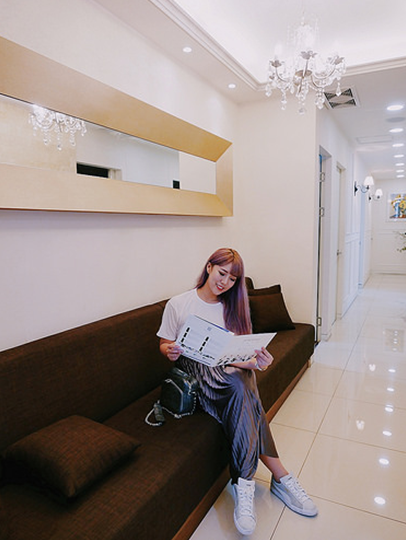 All changed out, ready for surgery! To be honest, I was freaking out even though I look so calm for the photo here??
I was then brought to the surgery room...
The nurse took measurements on the areas I was gonna do the mini-liposuction at.
And finally, IT WAS REALLY TIME FOR THE SURGERY TO TAKE PLACE. Lol say real.... I was trembling with fear because it's the first ever 'major' surgery I have ever done in my entire life. Although I do know that nothing could have possibly gone wrong (I really did lots of research online, read alot of feedbacks and reviews before deciding to do this surgery. I didn't go ahead with the surgery blindy ok!!), but it is still quite frightening to be there, lying on the surgery bed. Blehhh??
A photo with Dr Ha before the surgery!
Dr Ha then started drawing the markings on the areas I was gonna lipo at~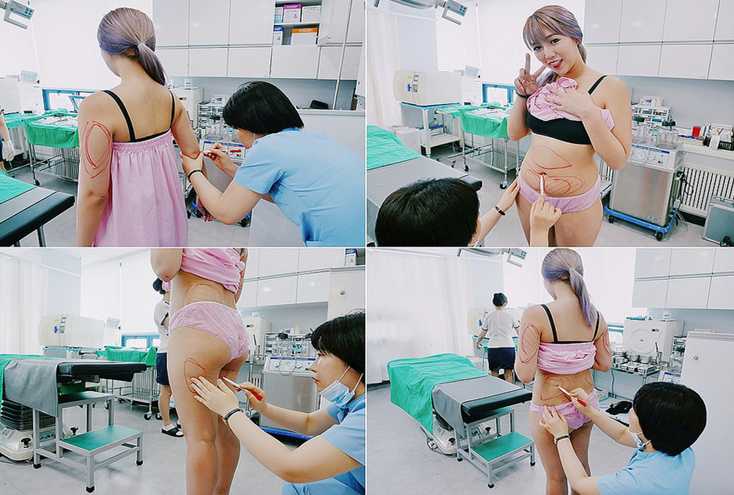 Specifically - arms, tummy, love handles, back of the thighs and inner thighs!
After disinfecting the areas, Dr Ha started administering the local anesthesia.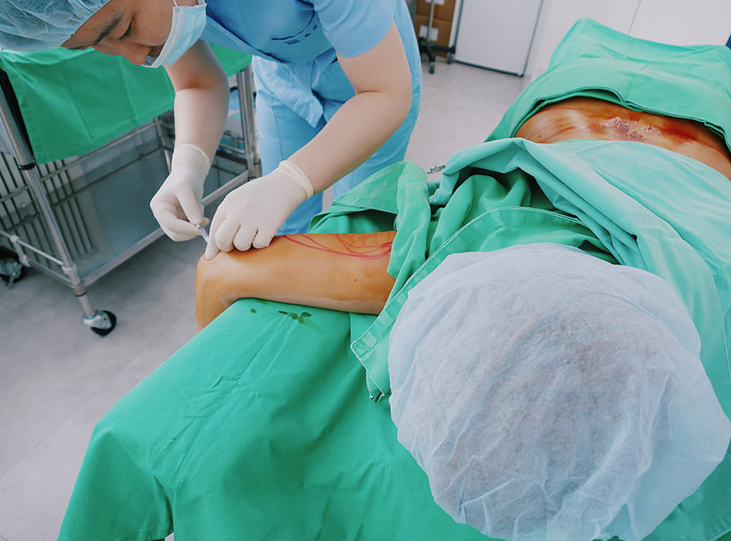 The first few local anesthesias were small injections to just numb the opening area! As you can see, the needle is really small so it wasn't painful. Pain level 1/10? Merely an ant bite feeling.
Okayyy then here comes the more painful part. As you can see...
The needle is ALOT BIGGER. This is also local anesthesia but it is meant to reach far & deep into your arms, thighs etc. The first few pushes are a little pain, but once the local anesthesia kicks in, then it will no longer be pain. So just gotta bear for the first few seconds?
Pain level: 4/10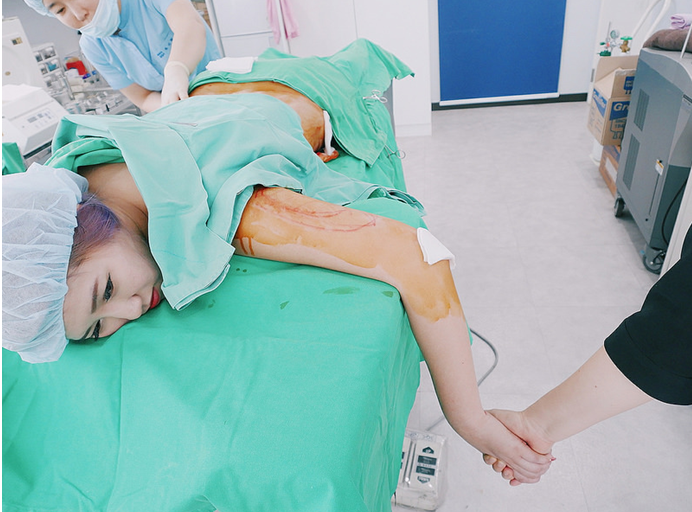 So cute la, the english translator knew I was really scared so she stayed beside me throughout and held my hand to give me support & encouragement. SO SWEET DE??

I could still smile for the camera halfway through surgery so I guess you could say the surgery was really bearable!! Hahaha coming from a person who can't take pain, you can fully trust me on that! I am not saying that it is painless though, but it's a pain level that you certainly will be able to withstand. Moreover there's local anesthesia to help. It's okay to stop the doctor if you feel extreme pain anytime during the surgery. The doctor will inject more local anesthesia into your body to help ease the pain :)
Just to break down how pain the different areas were..
ARMS: I am not lying, it is NOT PAINFULat all!! In fact I fell asleep (the surgery took place in the morning and I was really tired) and only woke up cuz I felt slight pain when Dr Ha was doing my love handles~
Pain level: 0.5/10
LOVE HANDLES: You could feel slight pain but it was still really o-k-a-y. Nothing major.
Pain level: 2/10
BACK OF THIGHS: Slightly more painful because there are more muscles around the thighs area. Remember I said more muscles = more pain? At this point, I cannot fall asleep already. LOL
Pain level: 3/10
INNER THIGHS: Whoa this area kinda sensitive. Pain!!! Probably a 4-5/10?
The surgery took longer than expected. So we took a short break after we were done with arms, love handles and thighs before proceeding on with my tummy!
TUMMY: THIS!!! PAINNN!!! Not kidding. The tummy lipo hurts the most. Because I think I have quite alot of muscles around my stomach area. LOL. Dr Ha had to inject alot more local anesthesia at my tummy to help me lessen the pain. The lower tummy wasn't as painful (cuz more fats right) but the upper part was really quite terrible. Hahaha but well, since I can survive it... I think most people can do it too.
Pain level: 6-7/10
After almost 4 hours of surgery.... WE ARE FINALLY DONE! Here's my 12 bottles of fats. They look kinda like fruit juice tho.. Watermelon and Papaya/Carrot juice? HAHA.
Dr Ha had initially estimated about 10 bottles of fat removal for me during consultation, but it ended up being 12 bottles. LOL. I guess really too much fats??
I was then brought to their resting room to take a rest before heading home~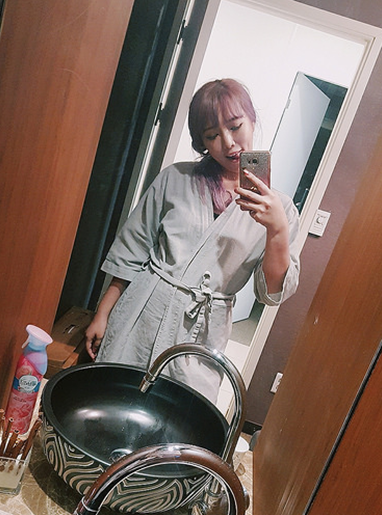 As you can see, I was really quite okay. I could even take photos myself hahaha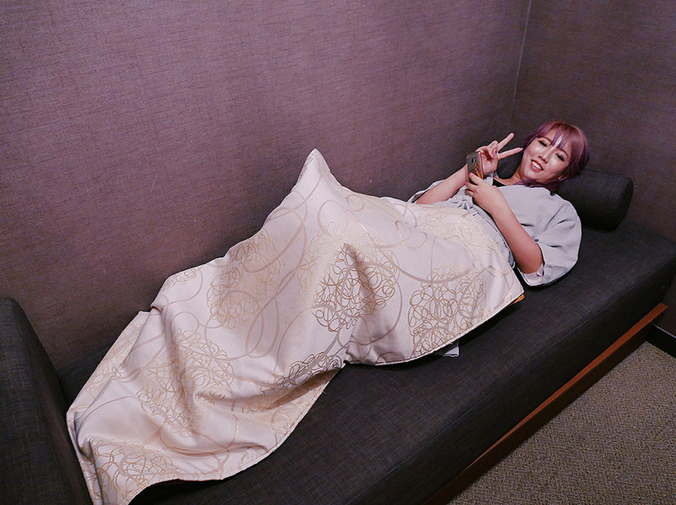 Took a rest for about an hour! At this point, I didn't feel much pain on my thighs, arms or love handles. But I could feel slight ache and pain on my tummy cuz as I said, tummy was the most painful during the surgery.
I was also given some antibiotics and painkillers to be taken twice a day, after meals!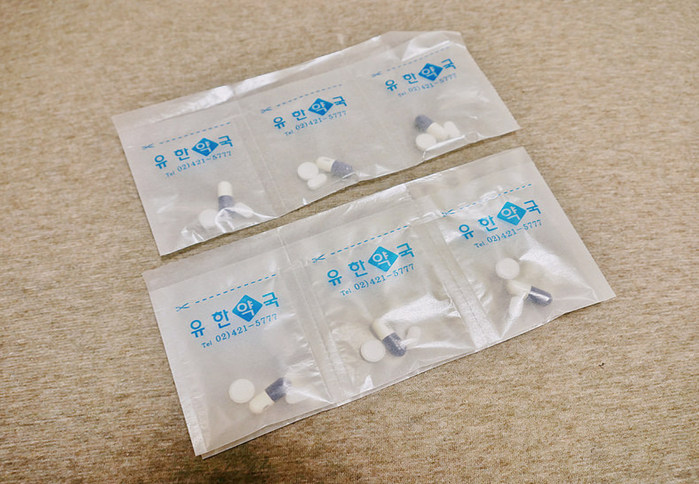 The next day, I was back at Renewme Skin Clinic again to get my bandages removed and to change my gauze! I even took the train down myself because it's really manageable!
Unvealing of my arms...

WHOA DEFINITELY LOOKS SMALLER!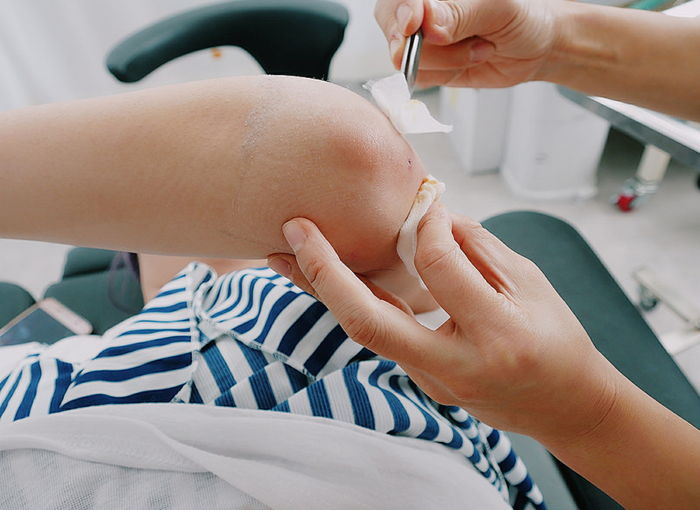 Changing of the gauze! The opening point is really small so it's really not that visible. Plus Dr Ha did the opening marks at areas where it's less prone to be seen - elbows, side of hips (where your panties will be able to cover), near the belly button and just below the butt cheek.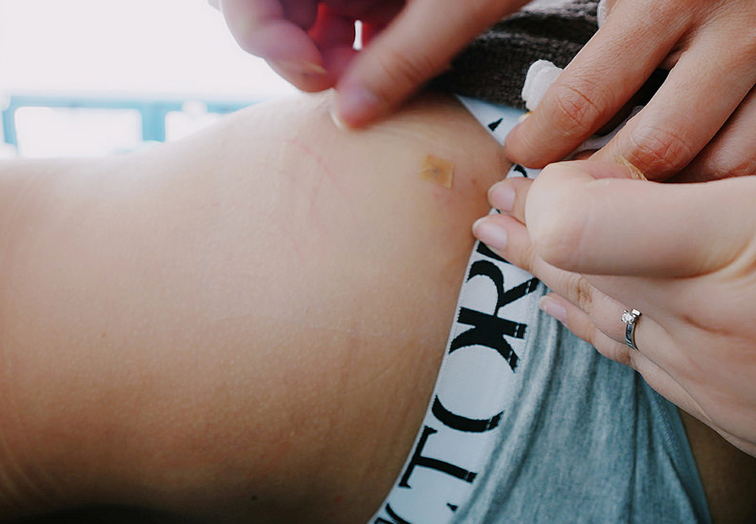 his is the opening mark for my love handle, at the side of my hips!
And now, some pictures of Before VS After!
To be honest, I am a little embarrassed to be posting it online... but well, this is what this post is for right?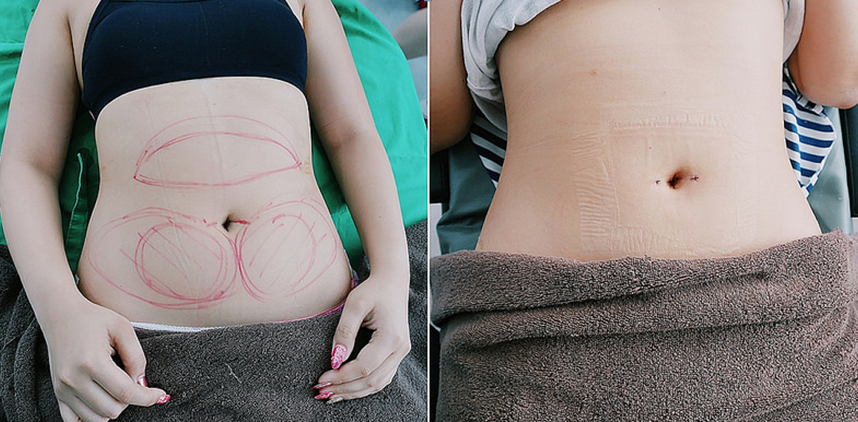 LOOK AT MY TUMMY!!! Whoa say real I didn't know the difference was so big till I was going through the photos while preparing for this post... I AM IN MAJOR SHOCK??
Thank you Dr Ha for sucking out em' fats out. It was painful, but so worth it after seeing the results!
That's the beauty of Mini-Liposuction. You can target specific areas you wanna remove fats from, which is more difficult to do so for traditional lipo method.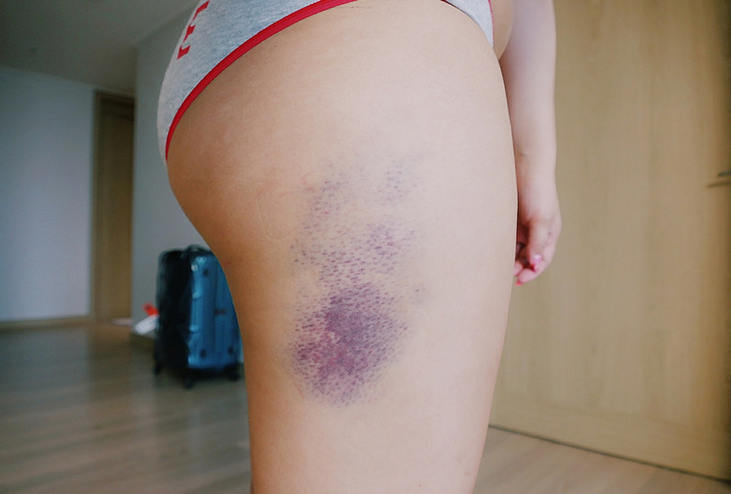 The bruising wasn't that bad either. I imagined it to be worst (think I see too many scary pics online lol) so I was really surprised to see my bruise to be on a smaller scale! The bruise lasted for about 1week+? Meanwhile, just wear dresses, maxi, long skirts or pants to cover it and all's good!
??MINI LIPOSUCTION PRICES @ RENEWME SKIN CLINIC??
1 bottle: 800,000won (~$980)
2 bottles: 1,500,000won (~$1836)
3 bottles: 2,000,000won (~$2448)
4 bottles: 2,500,000won (~$3060)
5 bottles: 2,900,000won (~$3550)
+400,000won (~$490) for each additional bottle after the first 5 bottles 
For me, I did a total of 12 bottles which makes it 5,700,000won = SGD$6978 approximately.
To break it down, I used 1 bottle each for each arm, 1 bottle each for both love handles, 4 bottles for my thighs and another 4 bottles for my tummy. So that makes it a total of 12. So you can probably roughly gauge from here~ If you are only intending to do your thighs, then maybe all you need is approx 4 bottles. Of cuz, it depends on individual and the doctor will further advise you on it.
There's also a 5% discount specially for my readers!
You just have to quote me to enjoy it!
Also, Renewme Skin Clinic would gift you some of their in-house cosmetic products if you do 3 bottles and above as an extra perk :) And if you tag them on your social media that you visited Renewme Skin Clinic, you'll get this box of Hydrogel masks as well worth 30,000won!
I have personally tried the mask and IT IS SOOO GOOD. Hahah really got difference as compared to those $1 masks??  The sunblock is awesome too, not too sticky or oily! I like it! I haven't got to try the intensive moisturizing cream tho, will try it really soon!
Maybe one tip that I would like to share with y'all is that you should do the surgery asap after reaching Seoul. I was in Seoul for 10 days but only did my surgery on the 7th day, which in my opinion, was a bad move :( I had only another 3 days to recover before flying back to Singapore. Flight back was horrible because I had to sit in that same position for hours, my thighs started hurting like mad. Ok it wasn't painful-kind-of-pain, but just sore and generally very uncomfortable. Doesn't help that because of the pressure, the bruise on my thighs became a little worse. Also, I had to find a local doctor back in Singapore to do the unstitching a week later. I found it quite troublesome.
So my advice would be to visit the clinic for consultation on the day you land (if possible), and do the surgery immediately the next day! Trust me, the recovery process really isn't that painful and you can still get to do normal things like a tourist. Maybe you might walk a little slower but that's about it. Lol. Also, maybe another downside is that you can't drink soju LOL. But if not being able to drink alcohol isn't that much of a big deal to you, then just do the surgery asap after arriving in Seoul!! Best is if you can do the unstitching itself at Renewme Skin Clinic so your doctor would be able to see your progress or you can ask any questions you might have~~
Oh btw, if you're interested, I dayre-ed daily when I was in Seoul. 
You can read my surgery entries here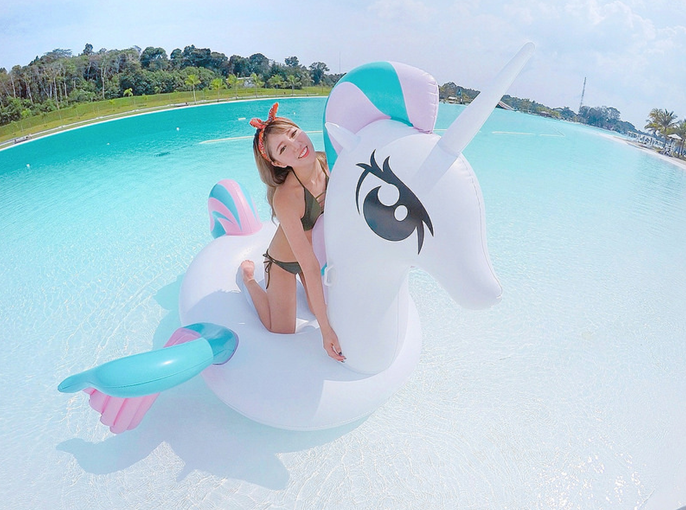 Surgery Day // One day after surgery
Lastly, just wanna say a big big thanks to Renewme Skin Clinic for helping me!! I can now finally feel more confident in my own skin or when I have to wear a bikini hehehe. These are some of my recent beach pictures~
As you can see, I think the difference is quite significant. I love the results on my arms especially!! Say NO to flabby arms yay!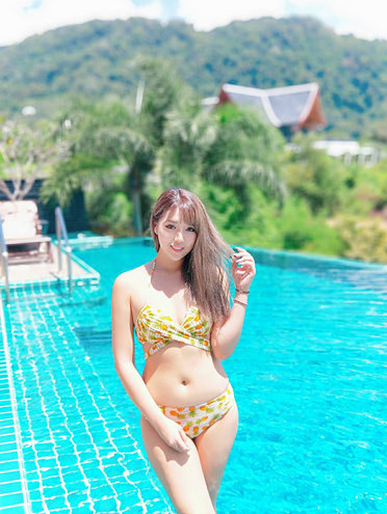 I still eat like crazy but I try cutting down on carbs whenever possible. And I have been trying to exercise more regularly too because I don't want to make all my efforts go down to waste??
If you're interested in enquiring more about the procedure, you can contact Renewme Skin Clinic at the above contact options! I usually kakao them and their replies are really fast!!
I hope this post will be helpful to some of you guys out there! Let me know if you have any questions, I'll try my best to answer. Teehee. I'll also try updating this space more frequently!??Follow me on Instagram and Dayre??
xx Shenny 
SHENNY'S PACKAGE