Upgrade to a whole new level

The 4th edition Thermage
Thermage
FLX
#Morepowerful_lifting #natural_lifting
The 1st edition


Thermage
TC

The 2nd edition


Thermage NTX

The 3rd edition


Thermage CPT
Please check a
genuine Thermage FLX tip!
Your safety and treatment outcome is not guaranteed if you are treated by an un-authentic tip of the original Thermage FLX.
※ It is our responsibility to provide the certificate of authenticity for our customers.
Check 6- digit numbers of a genuine verification code
Genuine vertification code
Visit the official Thermage website and register the genuine verification code.
The 4th edition Thermage


Renewme

Thermage FLX

What is
?
Thermage FLX makes safer and more accurate treatment possible. Without harming the surface layer of the skin, Thermage FLX can transfer the radiofrequency energy to the layer of subcutaneous fat and tissue, stimulating the rapid production of collagen. Thus, a natural facial lifting and tightening results could be expected.
What are the differences between
the 4th edition of Thermage FLX and the 3rd edition of Thermage CPT?
01

33% bigger tip greatly shortens 25% procedure time

02

Energy can be automatically adjusted = higher accurate rate!

03

Accurately and effectively transfer the energy to stimulate the production of collagen and skin elasticity!

04

Pain disturbance signal lowers the level of pain, making it a more comfortable and pleasant treatment!

05

Comparing to the older editions, more immediate results!
25% faster procedure time
Applying Automatic calibration technology
A brand new treatment experience
A principle

of Thermage

The Thermage system uses radiofrequency technology to heat the deep, collagen-rich layers of the skin, while the tip vibrates and cools the surface to help aid in patient comfort. The applied heat separates the water molecules from the fibrous collagen, causing an immediate contraction, resulting in skin tightening.
Droopy collagen

Thermage (RF) Radio Frequency

Collagen regeneration
How

Thermage works

It protects the surface of skin safely by cooling pulse while delivering thermal energy
STEP 01

Put the Thermage tip on the skin

STEP 02

Vibration cooling function protects the skin while the treatment is performed

STEP 03

Thermal energy penetrates deep into dermal layer of skin and the pain is reduced by vibration system

STEP 04

Cooling system is maintained while RF thermal energy penetrates the skin

STEP 05

Cooling system is operated to protect the skin
Ulthera
VS
Thermage
High Intensity Focused Ultrasound
Energy
Radio Frequency Energy
Immediately after treatment


(Maximum effect can be shown after 90 days)

Effect starts to appear
Approximately 2-4 weeks
It delivers ultrasonic energy to fascial plane underneath the surface of skin layer to tighten the skin
Effect
It uses RF energy to stimulate dermal layer of skin to help collagen formation and elastin regeneration so that it helps to achieve skin elasticity regeneration and lifting effect
- Have thick skin layer
- Concern about Double chin
- Concern about chubby cheeks
Recommended for those
- Have thin skin
- Have a lack of facial fat
- Wish to achieve fine wrinkles improvement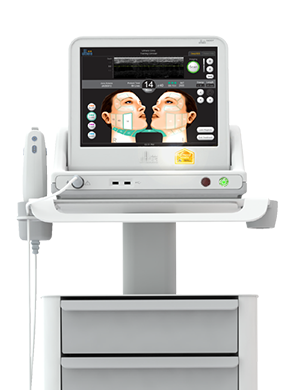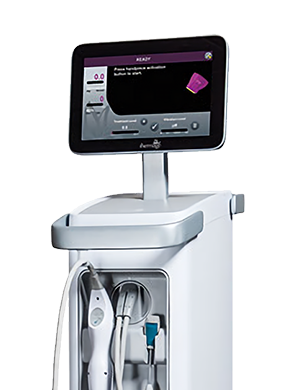 Frequently Asked Questions
| QUESTION 01 |
Does it hurt?
The Thermage® FLX system incorporates vibration on the face and body treatments, which has been shown to help aid in patient comfort. You'll feel a brief heating sensation when the treatment device's tip touches your skin, followed by a cooling sensation to help protect your skin and minimize any discomfort.
| QUESTION 02 |
How long will the results last?
For most patients, measurable results appear gradually in the two to six months following a single treatment session and can last for 1-2 years depending on your skin condition and aging process. **Recommended by physicians as part of an annual skin rejuvenation maintenance program.
| QUESTION 03 |
What kind of treatment can I combine with Thermage FLX?
You can expect more effect if you combine with Ulthera or Shurink Universe. Please consult with dermatologist for more accurate diagnosis depending on your skin type.
ThermageFLX is recommended for those who
Have sunken cheeks after lifting laser
Have thin skin
Concern about fine wrinkles and pores
Wish to return to normal activity on the following day after the treatment
Precautions for treatment
Please remove jewelry before treatment.
Please do not irritate the treated area after the treatment.
Please avoid jjimjilbang or sauna
for 3-5 days before treatment
Please avoid drinking alcohol or smoking
before and after the treatment.
Please apply a lot of moisturizer after the treatment.
Please apply sunscreen when going outside.
RENEWME CLINIC
WHY?
Renewme for
Thermage FLX?
1:1 personalized treatment
by rich experienced specialist in Dermatology
Board certified dermatologists in Renewme proceeds with 1:1 personalized treatment depending on skin type and type of tattoo based on expertise and a lot of experiences.
Regular medical seminar for effective treatments
Renewme has a regular seminar for all doctors from Renewme branches and foreign doctors from different countries. We constantly research to share know-how and minimize side effects & pain for high quality and effective treatments for customer satisfaction.
Various programs for wrinkle improvement
Renewme Skin Clinic always tries to maximize the effect of ThermageFLX by combining with lots of different types of lifting treatment programs.
Free
Consultation
1644-7508
Please feel free to ask questions about treatment anytime.
▣ Refund / Indemnify Policy ▣
If a patient have a side effect happened from medical malpractice,
the clinic will do refund and indemnify under Medical Act of Korea.